APRIL/MAY 2017 Canadian SOLO Tour
I've been wanting to do this for awhile - just me, my guitar and you guys, in local theatres across Canada. Back to basics.
$1 from each ticket sold, will be donated to MusiCounts. Tickets go on sale Friday February 3 at 12pm (local time) in all markets with the exception of Banff, AB where tickets go on sale Saturday February 4 at 12pm (local time).
Visit the TOUR tab for ticket links.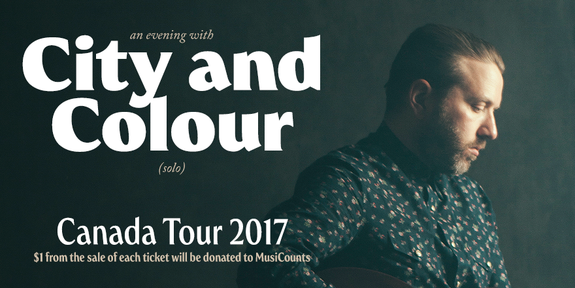 "An Evening with City and Colour (solo)" Tour Dates:
April 1 - Courtenay, BC - Sid Williams Theatre
April 2 - Campbell River, BC - Tidemark Theatre
April 3 - Victoria, BC - Royal Theatre
April 4 - Duncan, BC - Cowichan Theatre
April 6 - Vancouver, BC - Queen Elizabeth Theatre
April 7 - Surrey, BC - Bell Performing Arts Centre
April 8 - Chilliwack, BC - HUB International Theatre
April 10 - Penticton, BC - Cleland Community Theatre
April 11 - Trail, BC - Charles Bailey Theatre
April 13 - Vernon, BC - Vernon Performing Arts Centre
April 14 - Cranbrook, BC - Key City Theatre
April 16 - Lethbridge, AB - Yates Memorial Centre
April 17 - Banff, AB - Banff Centre: Eric Harvie Theatre
April 18 - Banff, AB - Banff Centre: Eric Harvie Theatre
April 27 - Sainte-Thérèse, QC - Église Sainte-Thérèse-d'Avila
April 28 - Saint-Casimir, QC - Théâtre les Grands Bois
April 30 - Charlottetown, PE - Confederation Centre
May 2 - Saint John, NB - Imperial Theatre
May 4 - Truro, NS - Marigold Centre
May 5 - Wolfville, NS - Convocation Hall
May 6 - Pictou, NS - deCoste Centre
May 8 - Fredericton, NB - The Playhouse
May 9 - Halifax, NS - Rebecca Cohn Auditorium
May 10 - Halifax, NS - Rebecca Cohn Auditorium
May 11 - Glace Bay, NS - Savoy Theatre
May 13 - St. John's, NL - Majestic Theatre
May 14 - St. John's, NL - Majestic Theatre
May 15 - Corner Brook, NL - Arts and Culture